Our subject has a 'Subject Way' at the heart of it. Our Subject Way is designed to help students become young subject specialists. The Subject Way has two main purposes:
Firstly, to teach students the vital skills they need to achieve their full potential and gain the very best grades they can. Secondly, to teach students how each subject relates to the wider world, incorporating the life skills they will learn.
It is our belief that knowing how what you learn links to the wider world, brings a subject to life and therefore improves overall understanding and engagement.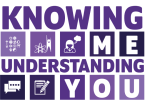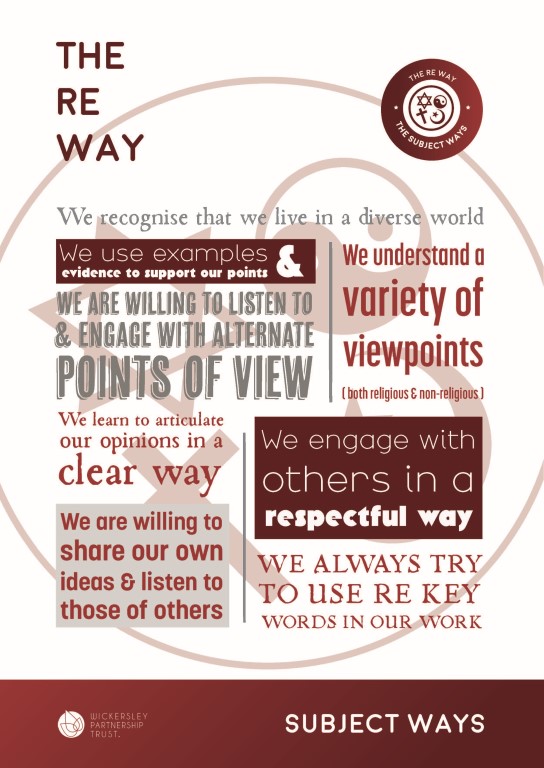 At Wickersley Partnership Trust we understand that getting the curriculum right for each and every individual student is the single most important factor in ensuring progress, encouraging positive engagement and raising aspirations. At Wickersley Partnership Trust, we want all students to leave able and qualified to play their full part in an ever-changing world through an ambitious, creative and innovative curriculum, which empowers students with the skills, knowledge and attributes to allow them to succeed in their next phase of education and their working life.
We aim to engender a love of learning, self-belief and aspiration through four key intentions:
The removal of barriers to learning
Developing skills for learning
Developing personal attributes (School Way)
Enriching student experiences and broadening their horizons
Our curriculum is not driven by performance tables. It is our belief that a strong, broad, balanced curriculum, tailored to individual needs, can remove barriers to learning and allow all students to access the curriculum appropriate to them and will therefore meet their individual needs.
At WPT we firmly believe that RE should be much more than learning about religion. Our RE curriculum is designed with the intention: To allow students to understand a range of worldviews (both religious and non-religious) and develop the ability to articulate and justify their own ideas both verbally and in writing; this is encapsulated in the phrase – 'Knowing Me, Understanding You'. Our topics of study are broadly in line with the recommendations set out in the Rotherham and Lincolnshire Agreed Syllabuses.
INTENTION 1 – The removal of barriers to learning
We want all our students to go out into the world, and become successful, happy, fulfilled adults who will be good citizens and make a positive contribution to society. The acquisition of basic skills is either at the heart of achieving this or a barrier to learning and prevents students from fully flourishing. Four common barriers, if left unchallenged, will limit the progress, engagement and development of students who access our curriculum. They are:
Literacy
Numeracy
Oracy
Vocabulary
As a subject we are working to remove the barriers to learning and support students' ability to access the curriculum through the development of literacy, oracy and vocabulary skills. In order to develop their oracy within a subject specific context, pupils are given opportunities to talk about their learning. Initially, this begins with scaffolding, for example, sentence stems, to make sure discussion/debate is effective; this scaffolding is ultimately removed throughout the RE curriculum as students become more proficient in their oracy skills. Discussion activities occur in paired, small group and whole class activities to expose students to a range of activities in which they can develop both their oracy and vocabulary skills.
Students are introduced to key subject specific vocabulary and have opportunities to reinforce their understanding. Key religious vocabulary is highlighted to the pupils, for instance, with the use of 'keyword symbol' and pupils are guided to use the vocabulary in their work. Students develop their literacy skills through guided reading activities, and extended writing assessments which receive spelling, punctuation and grammar teacher marking which students can then act upon.
When the opportunity naturally arises to develop students' numeracy skills within RE this is harnessed. For example, the Year 7 curriculum provides an opportunity for students to cover percentage calculations when looking at census data.
INTENTION 2 – Developing skills for learning
Developing student knowledge and essential learning skills go hand in hand. Students need to remember with fluency in order to be fully established mini-subject specialists. We strive, at all times, for personal excellence by developing the six key skills for success:
Recall
Interpretation
Creativity
Analysis
Evaluation
Divergent thinking
Students are given opportunities to develop their skills for learning in each and every lesson. Our aspiring pupils are presented with a variety of experiences and learning opportunities in order to be able to respect and appreciate a range of religious and non-religious viewpoints.
They are encouraged to think critically and form tolerant opinions. The skills for learning process within the RE curriculum both reinforces the key skills and helps our students to know, remember and be able to do more at each stage of the curriculum. The skills (I Can statements) within the KS3 RE curriculum develop student:
Knowledge & Understanding, and
Personal Opinion & Debate
Not only do these skills equip students for success in other learning and future aspirations, but they directly link to the requirements of the examined KS4 course.
INTENTION 3 – Fostering personal attributes
Through our secondary RE curriculum we aim to foster the value of tolerance as students are encouraged to develop a greater understanding and appreciation of different worldviews on a range of topics. We aim to ensure our secondary RE curriculum is designed to sequence learning and embed key skills, such as critical thinking, analysis, evaluation etc., which will aid students in future study or employment. We seek to develop an inquiring mind within students by considering their own opinion in relation to various worldviews on a variety of philosophical, ethical and religious issues.
The RE Way enables us to develop well-rounded individuals ready for the next stage. It is about embedding employability skills such as resilience, collaboration, communication, aspiration, responsibility, tolerance and respect in order for them to be an active participant in the local community and beyond.
We are beginning to embed the RE Way within our curriculum. We aim for it to be language that we speak and key aspects of the RE Way are as follows:
We are willing to share our own ideas and listen to those of others
We engage with others in a respectful way
We use examples and evidence to support our points
We always try to use RE key words in our work
We learn to articulate our opinions in a clear way
We understand a variety of points of view (both religious and non-religious)
We recognise that we live in a diverse world
We are willing to listen to and engage with an alternate point of view
INTENTION 4 – Enriching student experiences and broadening their horizons
The RE curriculum gives students the opportunity to understand and appreciate a broad range of both religious viewpoints and non-religious beliefs (i.e. Humanism). Our curriculum provides students with the ability to articulate their ideas both verbally and in writing, all while reinforcing the use of specific terminology and the correct use of spelling, punctuation and grammar. Students undertake written assessments on the topics studied which help to inform their overall levels and progression. Additionally, our curriculum aims to develop transferable skills, such as critical thinking, reasoning, communication; and to nurture values such as tolerance. The way in which our curriculum is structured and delivered enables students to develop the skills required for future employment or studies.
RE is a curriculum that must go beyond the classroom. To this end we broaden the horizons of all our students and enrich their learning through a range of first hand experiences. All our students have exposure to learning beyond the traditional mainstream lesson and have opportunities to enrich their experiences. For instance, where possible trips to places of worship, engagement with people of faith from the local community are planned as part the curriculum to support links in learning.
Key Stage 3
Using KS2 results, students are placed in sets on entry to school. KS3 RE is delivered via timetabled 80 minute RE lessons and RE specific drop down days which enable the curriculum to be enriched by allowing students to engage with external agencies such as visits to places of worship or interfaith panels via the Faith & Belief Forum.
Our KS3 curriculum is created using guidance from the Rotherham, Sheffield and Lincolnshire Locally Agreed Syllabus for RE. Students develop two key skills across our KS3 curriculum:
Knowledge and understanding
Personal opinion and debate
These skills provide a solid foundation for the KS4 examined course.
Key Stage 4
The core RE provision is delivered via dedicated RE drop down days. If selected as an option students in Year 10 and 11 complete the new Edexcel (Pearson) GCSE B course. The course involves an in-depth study of Christianity for Paper 1, to be studied in Year 10. This has units on Marriage and Family, Beliefs, Practices and Matters of Life and Death. Following on from this, in Year 11 students study Islam for Paper 2; this has units on Beliefs, Crime and Punishment, Living the Muslim Life & Peace and Conflict.
Both papers require students to demonstrate a thorough knowledge and understanding of religion and belief and an ability to debate. Both papers will be sat at the end of Year 11.
Year 9
In Year 9 students will start to study the OCR Cambridge Nationals Enterprise and Marketing course. They will start to cover the R064 theory needed for the written exam. Students will have the opportunity to implement the theory content into small projects, allowing students to have a better grasp of the theory content 
The students will learn the following skills/knowledge over the course of year 9 curriculum:
Students will develop skills needed to calculate and analysis business finances  such as profit/loss, sales revenue, costs and breakeven.
Understand the importance of Market Research and explain several different research techniques that can be carried out by a business.
Understand the Product Growth model and be able to offer suggestions on how a business can make a product successful
Understand the legal issues involved in running a business and how legislation can protect employees in industry.
Year 10
Year 11