Miss Douglas
Mrs Burgin
Mrs Naish
Our subject has a 'Subject Way' at the heart of it. Our Subject Way is designed to help students become young subject specialists. The Subject Way has two main purposes:
Firstly, to teach students the vital skills they need to achieve their full potential and gain the very best grades they can. Secondly, to teach students how each subject relates to the wider world, incorporating the life skills they will learn.
It is our belief that knowing how what you learn links to the wider world, brings a subject to life and therefore improves overall understanding and engagement.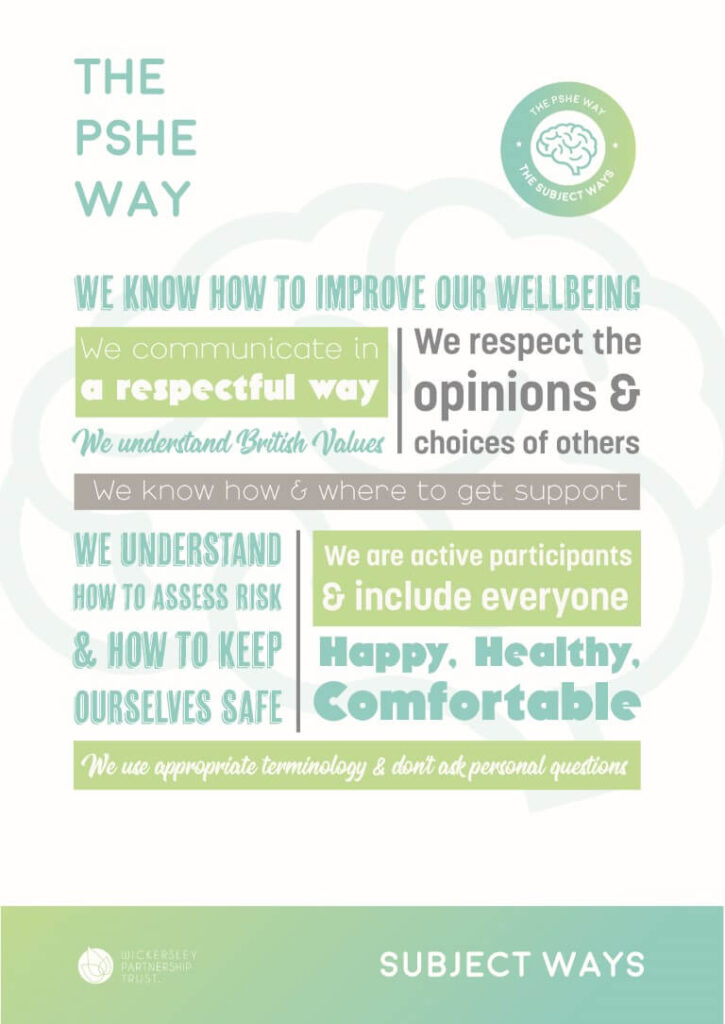 At Wickersley Partnership Trust, we firmly believe that all students have the right to be healthy, happy and comfortable in all areas of their life. Personal, Social, Health and Economic (PSHE) education is the school subject through which pupils develop the knowledge, skills and attributes they need to manage their lives, now and in the future. It helps children and young people to stay healthy and safe, while preparing them to make the most of life and work.
Topics taught through PSHE at WPT include relationships education, sexual health education, emotional wellbeing, substance misuse, careers, citizenship and anti-bullying. All units of work make clear connections to online safety and aim to empower our students to make their own safe choices, both on and offline. The key character traits we seek to develop are; communication and debate, accessing support, respect, assertiveness and responsibility. Equality and inclusion are key to successful PSHE, and are apparent in all we do. 
We have developed a spiral PSHE curriculum which aims to equip students with the necessary knowledge and skills to allow them to identify risk and evaluate choices regarding health, relationships and future goals. Our curriculum is informed by pupil, staff and parent voice, which allows us to sequence statutory guidance to meet the needs of our young people. Lessons involve deliberate opportunities for students to apply their understanding to scenarios and reflect on their learning. 
Our work in timetabled PSHE lessons is also complimented by work in the pastoral curriculum, our wider personal development program and drop down days.
"Today's children and young people are growing up in an increasingly complex world and living their lives seamlessly on and offline. This presents many positive and exciting opportunities, but also challenges and risks. In this environment, children and young people need to know how to be safe and healthy, and how to manage their academic, personal and social lives in a positive way." – Damian Hinds, Secretary of State for Education.
INTENTION 1 – The removal of barriers to learning
In PSHE  we remove barriers to learning and support students' ability to access the curriculum through  the development of literacy, numeracy, oracy skills and vocabulary acquisition. Misconceptions do not go unchallenged and the supportive environment within each and every lesson ensures that students develop their own literacy and vocabulary. 
Students are given many opportunities to read a range of news sources and research independently. We aim to develop students' ability to be critical consumers of information, and to apply their knowledge and understanding to written scenarios. Across all year groups, students take part in Money Matters week towards the end of the financial year. This provides opportunities to apply their numeracy skills to topics of economic relevance, such as budgeting, borrowing and interest and the benefits of saving. Within PSHE lessons students may be required to calculate units of alcohol, or sequence developments in the law chronologically.  Deliberate opportunity for students to verbally articulate their understanding features in every PSHE lesson. Students may discuss with a partner, small group or participate in full class debate. Teaching aims to encourage students to extend their verbal communications, expectations in this area are ambitious for all, regardless of written abilities.  Students are introduced to key subject specific vocabulary and have regular opportunities to reinforce their understanding. Key terminology is identified in students notes, and referred back to during written and verbal assessment tasks. 
INTENTION 2 – Developing skills for learning
PSHE lessons foster a high challenge, low fear environment. Resilience and independence are a focus, and students are given opportunities to develop in each and every lesson. Engaging starter activities help students to recall the key concepts of prior learning and support them to apply this to new knowledge. Communication and debate skills feature heavily in PSHE lessons. 
INTENTION 3 – Fostering personal attributes
PSHE lessons rely on the 'PSHE Way' to lay the ground rules for respectful and mature conduct. PSHE develops emotional intelligence and compassion in our pupils. Lessons build awareness of the experiences of others and the resulting impact on their lives. This adds depth to students' understanding of respect and tolerance, as well as their self efficacy and sense of responsibility. 
INTENTION 4 – Enriching student experiences and broadening their horizons
PSHE lessons use resources from leading charities in the area, such as Barnardo's, CEOPS, teenage cancer trust, mind as well as local police and fire services. This ensures our students have access to the best quality information available. We also provide learning opportunities such as practical first aid sessions, mock trial, visits from those working with named charities and encounters with employers. 
Key Stage 3
Using KS2 results, students are placed in sets on entry to school. Students have three 80 minute English lessons each week. The topics studied build on previous skill sets and develop in difficulty, as we start with a review of primary skills and build up to GCSE and A Level. The department uses regular assessments and 'sticker tasks' to assess the understanding that students have developed and address any misconceptions, thus allowing us to plan their next steps and meet their needs more effectively. Each assessment will be followed by a bespoke intervention task for each student, allowing them to work on and improve in any areas they may struggled with.
We have three driving themes which students will study and return to each year: Power, Relationships and Identity. From Year 6 rollover into Y7 and Y8, students will study five different texts writing skills and produce descriptions, narratives, articles, speeches and poems. The text choices are:
The Boy at the Top of the Mountain by John Boyne
My Sister Lives on the Mantelpiece by Annabel Pitcher
Noughts and Crosses (the play) by Malorie Blackman
Animal Farm by George Orwell
Romeo and Juliet by William Shakespeare
Across Y7 and Y8, students have one lesson of Drama incorporated into every sixth lesson of English. As a vital part of developing students' oracy skills, Drama and English specialists work together to build these links across our joint curriculum. This includes developing role play to empathise with characters from the texts, and effective presentational talk.
From Y9, students will then move to three blocks of thirteen weeks of study. Alongside the reading of these texts, students will return to previous writing skills in addition to writing letters and travel writing.
A Christmas Carol by Charles Dickens
A Gothic Anthology of extracts including Edgar Allen Poe
Othello by William Shakespeare
Key Stage 4
All students have four lessons of English per week leading towards their two GCSEs in English Language and English Literature (AQA). Students have regular topic tests and these, alongside homework, allow staff to check the ongoing understanding of the students. The use of mock exams in Y10 and Y11 allows students to be comfortable and confident in an examination setting, as well as helping them to target their revision more effectively.
English Language
The English Language qualification consists of two examinations which assess students' reading and writing skills. Across the two examinations, students read and comment on fiction and non-fiction texts from a range of time periods. The skills of retrieval, inference, analysis, evaluation, synthesis and comparison are essential aspects of the course. Students are also required to use these texts as inspiration to write creatively. Students are asked to write for different purposes, such as writing to describe, narrative, argue and explain. Students are assessed on their ability to write for purpose, use language, structure their writing and be accurate.
English Literature
The English Literature qualification also consists of two examinations, and students study texts across a range of genres. Our chosen Literature texts are Macbeth by William Shakespeare; An Inspector Calls by J.B. Priestley; Strange Case of Jekyll and Hyde by R.L. Stevenson; and the Power and Conflict poetry anthology. Students are therefore given the opportunity to read texts across different time periods and continue to learn about significant themes, some of which they have already encountered at Key Stage 3. Students learn to analyse writers' methods, make interpretations, use evidence and link to wider ideas and concepts.
Year 7
Year 8
Year 9
Year 10
Year 11
Year 7
Wellbeing and Safety
The importance of self-care and healthy lifestyles, including sleep. The influence of our words on others, cyberbullying, and where to report concerns. Expectations of behaviour on and offline, including the law. Who to talk to and where to go if you are scared/worried.
Growing up (Puberty and Relationships) 
Healthy routines, influences on health, what constitutes unwanted contact, and FGM. Emotional and physical changes in puberty, period products, sexual attraction, and identifying pressure in relationships.
Substance Misuse and the Law 
The physical and psychological risks associated with; alcohol, smoking, e-cigarettes, solvent abuse, and cannabis. Peer pressure scenarios and the law relating to these. British Values and how the police and courts operate. 
Year 8
Year 9
Year 10
Year 11